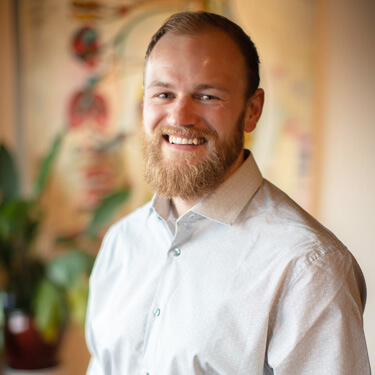 Meet Dr. Kent Rempel
Discovering the Power of Chiropractic
Dr. Kent has been interested in health care for most of his life, and he attributes this to his mom's career as a nurse. He played football at the University of Saskatchewan, and experienced his fair share of injuries. A local chiropractor helped in his recovery and this experience sparked his interest in the profession.
Two family friends had attended Life University and told Dr. Kent to look no further for his chiropractic college. He dove in headfirst, making the move to Atlanta, Georgia to complete his chiropractic education.
A Passion for Full Family Care
Dr. Kent carried his passion for athletic performance with him to Atlanta. He participated in the Sports Chiropractic Club to further extend his knowledge, but was surprised to find a passion for entire family wellness as well. He is excited to work with all activity levels and ages.
When it was time to begin practicing, Dr. Kent knew where he wanted to go. While growing up in Saskatchewan, his family enjoyed winter ski trips to the mountains. When he and his wife first met, they agreed that the active mountain lifestyle was for them. After a quick trip one summer they knew Kelowna was a perfect fit.
CHIROPRACTIC CARE »
Loving Life in Kelowna
Dr. Kent still loves playing hockey. He got into the game at age 4, and even got the opportunity to play during his time at Life. His lifestyle is very active. When not at LifeWorks Family Chiropractic you can find him on the weekends either skiing, hiking, or camping. He runs half-marathons and has a goal to run a full marathon, and one day compete in an IRONMAN® event.
Book Your Visit Today
We want you and your loved ones to have the best possible health. Contact Dr. Kent today!

Dr. Kent Rempel | (250) 868-4880