Pediatric Chiropractic in Kelowna
The Healthiest Start to a Happy Life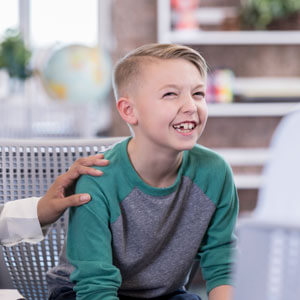 Our doctors practice with a special focus on helping children and newborns. We've seen patients as young as a few hours old! With a passion for seeing your child live a healthy, happy life, we welcome you and your family to experience the difference that wellness chiropractic care can make in your lives.
Your little one goes through an immense amount of pressure during childbirth that is very stressful on their little bodies. This can cause misalignments to their spine and damage to the surrounding nerves. The pressure used to adjust a baby, however, is about the same as you would use to test the ripeness of a tomato – very gentle and just enough to make a big difference. Many babies sleep right through their adjustments!
We May Be Able to Help
Our Kelowna pediatric chiropractic care has helped many children to heal naturally. Chiropractic is famous for helping children overcome a variety of childhood conditions, however, chiropractic is not a direct treatment for a handful of conditions, it's better! Chiropractic is a method of removing nerve interference so that the body can better function and heal itself, naturally.
"Playing" Chiropractor
Our adjustments are given with the utmost gentle care and eagerness to create positive health outcomes. Our office is filled with children, toys and laughter! Many parents report that their children love to go home and pretend to be chiropractors because their visits are so enjoyable and fun.
The Benefits of Kelowna Pediatric Chiropractic Care
Regular chiropractic checkups can make a world of a difference in your child's health and overall life. Every technique is modified to your child's age, health and individual needs.
A check-up is just that. If nothing is found to be wrong, nothing will be done to your child.
If spinal or nerve problems are found, here are just a few examples of how chiropractic care can help:
Correct Early Dysfunction
Many chronic spinal problems in adults began in childhood. There's an old saying: "If the twig is bent, so grows the tree." If there's a spinal issue, it can get worse and worse if it's not corrected. Chiropractic care for kids helps correct nerve spinal problems and injuries before they become a long term problem.
Support Proper Development
Chiropractic care helps your child's nervous system develop, adapt, and grow free of any interference allowing them to develop normally & healthy.
Overall Health
Undetected nerve interference can rob your child of their optimal potential even in the absence of pain and other symptoms. Help your little one stay healthier, be more balanced, perform well in sports and much, much more!
We want to help your child have the healthiest start to life possible. Let's set your child up for success!
CONTACT US »

Pediatric Chiropractor Kelowna BC | (250) 868-4880