New Patients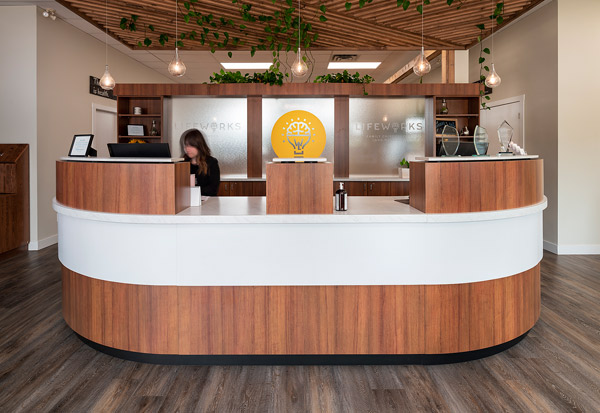 At LifeWorks Family Chiropractic, we create a warm and friendly environment so that you and your family can walk in and feel at ease. The moment you walk in the door you'll be greeted like a member of our family. Parents are chatting to each other, children are playing in the kids' area and people are happy to be here. We hope you will help yourself to the fruit basket and fruit-infused water that we provide.
Below you'll find our new patient intake forms and additional information to make your first few visits as smooth as possible. Please download the new patient forms and fill them out beforehand to save time.
Visit One – Dive deep into your health.
Your first appointment with us involves an in-depth consultation and comprehensive examination. We'll then perform three scans with the Insight Subluxation Station to show us how your nervous system is functioning. If needed, we can take X-rays on-site. With the necessary information gathered, we can tailor a care plan will be designed specifically for you to fit your health needs and individual goals.
This visit takes about 45-60 minutes.
Visit Two – Look at your health from a new perspective.
At your next visit your chiropractor will explain your examination results. You will then understand:
The cause of your problem.
If and how we can help.
How long it will take.
The costs involved.
After discussing your options for care you be able to benefit from your first chiropractic adjustment at that time.
This visit takes about 30-45 minutes.
Checking Your Progress
Your subsequent visits are shorter in duration. About every 12 visits, we'll take another set of tests, nerve scans as well as periodic x-rays if needed. We can then compare these test results to the previous ones you had taken to mark your progress and be sure the unferlying problem is being corrected.
Why Choose to Continue?
A lot of people tell us that they've heard if they start chiropractic, they have to go forever. There is no requirement that you keep seeing us. Many people choose to have wellness care that involves periodic visits. They realize that chiropractic allows them to function at 100% and has a positive effect on the life of their family. The choice is yours!
Schedule your first appointment with us. Contact our team today! We have a new patient special available.

New Patients | (250) 868-4880