Chiropractor Opportunities Available
Are you a chiropractor looking for the perfect opportunity? Do you want more than just a job? Has the right associate position alluded you? Are you tired of struggling in practice?
My name is James Whillans. I have been practicing in Kelowna for 13 years. I've had my share of ups and downs. The last 6 years have been the most successful years for me and the last year has been the most fulfilling.
After 12 years of "going it alone" I brought in Drs Kent and Emily. Check out the video of us here:
I was able to mentor these doctors to a level of success that took me about 5 years to achieve, all in less than one year!
We are taking on another chiropractor this year, perhaps you are a good fit?
Are you passionate about the bodies ability to self-heal? Do you love helping people with the gift of chiropractic and take great pride in delivering exceptional care?
If that sounds like you please contact me below.
As stated in the video, if you are the right person I will find a role that fits your unique talents, abilities and preferences.
Maybe that is an associate position where you get to focus on taking great care of patients in a stable and consistent team environment with loads of coaching and mentorship.
Perhaps you are more interested in working toward owning your own practice like Drs Kent and Emily. Why reinvent the wheel and take on a huge overhead when you can have your own practice while sharing space and being mentored to success, quickly!
Or, are you an experienced chiropractor who is tired of dealing with your own practice and you love the idea of just taking care of your patients while working less and making more.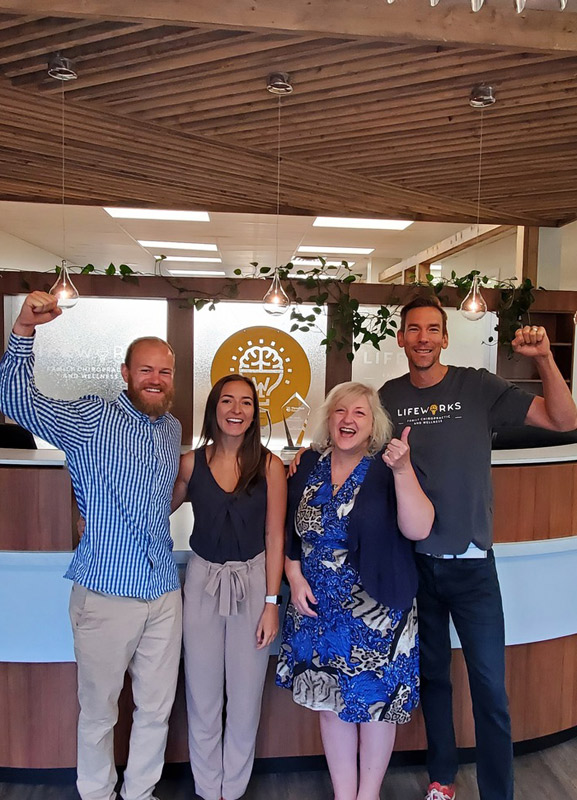 Here is some of what we have to offer the right candidate:
Attractive salary / profit sharing system.
Beautiful 3500 square foot office with paperless notes, digital x-ray, three technology CLA subluxatuon stations with core score, lunch room and shower, etc.
Well trained and on-fire team of assistants and office manager to take care of all the details.
13 years of successful practice in same location with excellent reputation in the community.
Congruent systems succeeding quickly in a fun, low stress environment.
Mentorship and guidance.
For more information and to schedule an initial phone call please email me at: drwhillans@lifeworkschiropractic.ca or fill in your information on the form.